Plumbers & Pipefitters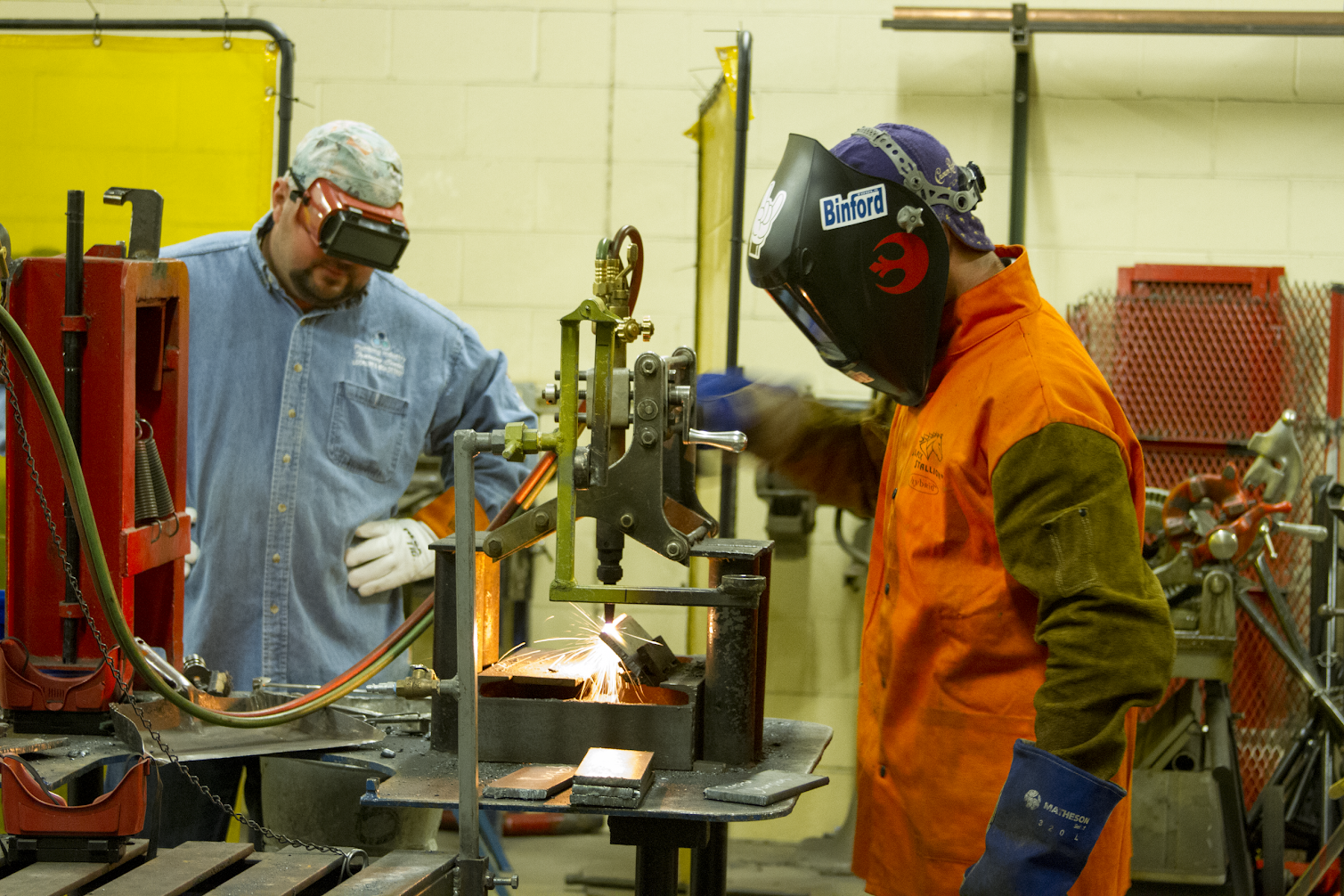 PLUMBER - Scope of Work
Responsible for the installation of water line systems to kitchens, bathrooms, lavatories, etc., in residential, commercial and industrial buildings. Also install natural gas and air lines. Assemble, install and repair pipes, fittings and fixtures according to specifications and plumbing codes. Measure, cut, thread, bend, install and tests pipes and pipefittings. Work according to blueprints, specifications and working drawings to perform the work required in sequence of installations.
Working Conditions
Active and strenuous. Stand for prolonged periods, sometimes in cramped, uncomfortable positions. Must climb ladders and also work below ground level. Work can be dirty, particularly on waste systems.
PIPE FITTER - Scope of Work
Install piping systems that carry hot water, steam, air or other liquids or gases needed for industrial production, or other uses. Install both high or low pressure systems, especially in industrial and commercial buildings. Lay out, fabricate and assemble pipes from drawings, blueprints and specifications. They also work on pipes for heating and cooling systems, and install automatic fire-sprinkler systems in buildings.
Working Conditions
Pipe Fitters work both inside and out. In new construction, Pipe Fitters move onto the project after the basic structure is erected. The work is active and strenuous. There is a great deal of walking, standing, reaching, lifting and working in cramped quarters. They are subject to the hazards of working with and around high-pressure gas, steam and chemical lines.
Locals
Greater Michigan - UA Local 190 Joint Training Program
Randall Whitaker, Training Coordinator
8040 Jackson Rd.
Ann Arbor, MI 48103
(734) 426-3700
FAX (734) 426-3707
Completion of this apprenticeship program qualifies for credit with Washtenaw Community College toward certain associate degree programs.
Territories Covered: Washtenaw County, Hamburg & Green Oak in Livingston and Clinton, Macon and Tecumseh in Lenawee County.
Plumbing/PipeFitting/HVAC Service/Pipe Welding
Local 85 - U.A. Local 85 Training Center
Timothy D. Danielak, Training Coordinator
6705 Weiss St.
P.O. Box 6547
Saginaw, Michigan 48608
(989) 799-5261
FAX (989) 791-3468
Territories Covered: Zone 1: That half of Huron County lying West of M-53, and all of Arenac, Bay, Clare, Gladwin, Gratiot, Isabella, Midland, Saginaw, and Tuscola Counties.
Additionally: INDUSTRIAL WORK in the counties of Alcona, Alpena, Antrim, Benzie, Charlevoix, Cheboygan, Crawford, Emmet, Grand Traverse, Iosco, Kalkaska, Leelanau, Missaukee, Montmorency, Ogemaw, Oscoda, Ostega, Presque Isle, Roscommon, and Wexford.
Plumbers & Pipefitters Local 172
South Bend Plumbers & Pipe Fitters Training Centers
Broc Buczolich, Training Coordinator
4172 Ralph Jones Court
South Bend, IN 46628
(574) 273-0500
FAX (574) 273-1560
Territories Covered: Cass County, and the city of Niles and vicinity in Berrien County, Michigan.
West Michigan Plumbers, Fitters & Service Trades Local Union No. 174
1008 O'Malley Dr.
Coopersville, MI 49404
(616) 837-0222 ext.12
FAX (616) 837-1222
Territories Covered: The counties of Kent, Lake, Manistee, Mason, Mecosta, Montcalm, Muskegon, Newaygo, Oceana, Osceola, Ottawa, Ionia (except the Townships of Portland and Danby), the northern teir of townships in Allegan and Barry; those being the Townships of Laketown, Filmore, Overisel, Salem, Dorr, Leighton, Thornapple, Irving, Carlton and Woodland.
Plumbers & Pipe Fitters Local 333
Lansing, Jackson, and Battle Creek
Trent Mauk, Training Coordinator
Training Office: 3101 Allied Drive - Suite # A
Jackson, MI 49201
(517) 784-1106
FAX (517) 784-1147
Plumbers & Pipe Fitters HVACR Service Technicians
Local 357 - Kalamazoo Plumbers & Steamfitters JATC
Bob Gulbranson, Training Coordinator
11847 Shaver Rd.
Schoolcraft , MI 49087
(269) 679-2570
FAX (269) 679-2571
Territories Covered: Kalamazoo, Van Buren, St.Joseph, Allegan, Berrien and Barry Counties.
Plumbers & Pipe Fitters and Service Trades UA Local 370
5500 W. Pierson Rd
Flushing, MI 48433
(810) 720-5243
FAX (810) 732-3805
Territories Covered: Genesee, Shiawassee, Lapeer.
U.P Plumbers & Pipe Fitters Training Education Center Local 111
2601 North 30th Street
Escanaba, MI 49829
(906) 789-9784
FAX (906) 789-9799
Territories Covered: Upper Peninsula & Niagara, WI.
UA Plumbers/Piperfitters Local 671
Monroe Plumbers & Pipefitters Joint Apprenticeship Committee
Paul Padot, Training Chairman
309 Detroit Avenue
Monroe, MI 48162
(734) 242-5711
FAX (734) 242-4692
Territories Covered: Monroe County
Plumbers UA Local 98 - Plumbing Industry Training Center
1911 Ring Dr.
Troy, MI 48083-4229
(248) 585-1435
FAX (248) 585-1437
Territories Covered: Wayne, Oakland, Macomb, St.Clair, Huron, & Sanilac Counties.
Pipefitters - Steamfitters, Refrigeration & Air Conditioning Service Local 636
Pipefitting Industry Training Center
Larry Giroux, Training Coordinator
636 Executive Drive
Troy, Michigan 48083
(248) 585-0636
FAX (248) 585-3907
Territories Covered: Wayne, Oakland, Macomb, St.Clair, Huron & Sanilac Counties.
Apply Now