Electricians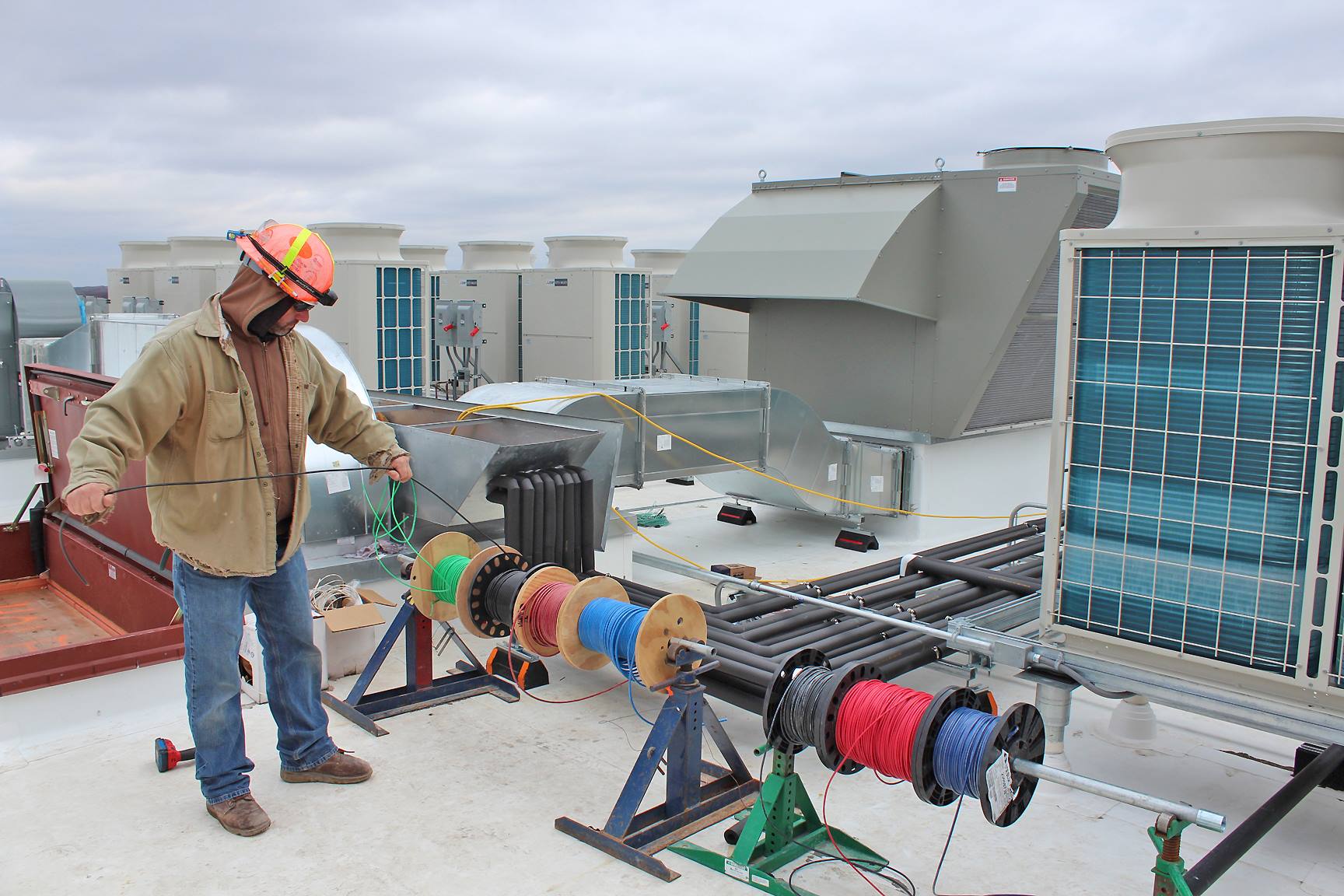 Scope of Work
The work of Electrical Construction Workers (Inside Wiremen) can be divided into broad categories such as new construction, remodeling, maintenance, and repair. While the jobs differ, the mental and physical skills acquired in a properly designed and administered training program prepare the electrical worker for this entire range of work. During a career as an electrical construction worker, a person will likely be involved in many different types of jobs presenting many new and different challenges, working with his or her hands as well as with their mind. Much of the work involves installation, assembling, testing, repairing, layout, and design of electrical wiring, fixtures, and apparatus used for power, light, heating, air conditioning, and many types of control systems. Many jobs now incorporate computers. Due to the nature of the work, above average math and reading skills are essential.
Working Conditions
Work is done both indoors and outdoors in all temperatures, weather, and environmental conditions. The trade, at times, requires considerable physical effort for lifting, carrying materials, ladders, and tools, and climbing ladders and scaffolds. Since most of the work is performed from ladders, scaffolds, or powered lifts, the Electrical Construction Worker must be comfortable working at a variety of heights. Most job functions require the use of hand and power tools.
Locals
Electrical Workers - IBEW Local 58 Detroit Electrical JATC
Electrical Industry Training Center
Gary Polulak, Training Director
2277 E. Eleven Mile Road, Suite 1
Warren, MI 48092
(586) 751-6600
FAX (586) 751-6699
Territories Covered: Wayne, Oakland, Macomb, Huron, Sanilac, St.Clair and part of Livingston.
Kalamazoo Joint Apprenticeship and Training Committee- Local 131
Morris A. Applebey, Training Director
3641 East Cort Street
Kalamazoo, MI 49001
(269) 388-4434
FAX (480) 247-4341
Territories Covered: Kalamazoo, St. Joseph, Van Buren counties.
Electrician Local 252 - Ann Arbor Electrical Apprenticeship Training Center
Ann Arbor Electrical J.A.T.C.
John Salyer, Training Coordinator
13400 Luick Drive
Chelsea, MI 48118
(734) 475-1180
FAX (734) 475-1209
Territories Covered: Washtenaw and Jackson Counties , parts of Livingston & Ingham Counties.
Electrician Local 275 – West Michigan Electrical Apprenticeship Program
140 N. 64th Street
Coopersville, MI 49404
(616) 837-7149
FAX (616) 837-1785

Territories Covered: Kent, Mecosta, Montcalm, Muskegon, Newaygo, Oceana, Ottawa; Laketon, Fillmore, Overisel, Salem, Door, Leighton in Allegan; Thornapple, & Irving in Barry; Otisco, Orleans, Ronald, North Plains, Keene, Easton, Ionia, Lyons, Boston, Berlin, Campbell & Odessa in Ionia; Coldwater, Gilmore, Sherman, Nottawa, Bloomfield, Deerfield, Rolland & Fremont in Isabella; Sweetwater, Webber, Cherry Valley, Pinora Lake, Yates, Pleasant Plains, & Chase in Lake; Victory, Sherman, Sheridan, Hamlin, Amber, Pere Marquette, Custer, Branch, Summitt, Riverton, Eden & Logan in Mason; Richmond, Hersey, Evart & Orient in Osceola.
Electrician Local 445 - Battle Creek Electrical JATC
Chris MacCreery, Training Coordinator
1375 West Michigan Avenue
Battle Creek, MI 49037
(269) 964-4545
FAX (269) 964-4040
Territories Covered: Branch, Calhoun and some of Barry and Eaton.
Electrician Local 498 J.A.T.C.
Timothy R. Babcook, Training Director
3912 Blair Townhall Road
Traverse City, MI 49684
(231) 943-4193
FAX (231) 943-8000
Territories Covered: Charlevoix, Antrim, Kalkaska, Missaukee, Wexford, Grand Traverse, Leelanau, Benzie, Manistee, Clare, Lake, Mason, Cheboygan, Emmet, Crawford, Osceola, Ostego, Roscommon.


Saginaw Electrical J.A.T.C Local 557
7303 Gratiot Rd.
Saginaw, MI 48609
(989) 781-0516
FAX (989) 781-0563
Territories Covered: Gratiot, Tuscolo and Saginaw.
Electrician Local 665 - Lansing Electrical J.A.T.C.
Dale Goerge, Training Coordinator
5708 Corner Stone Drive , M102
PO Box 40010-4102 W
Lansing , MI 48901
(517) 483-9688
FAX (517)483-9696
Electrician Local 692 - Bay City Electrical Apprenticeship Program
Steve Pahl, Training Coordinator
1206 W. Thomas
Bay City, MI 48706
(989) 686-4890
FAX (989) 686-5416
www.IBEW692.org

Territories Covered: Alcona, Alpena, Arenac, Bay, Gladwin, Montmorency, Oscoda, Ogemaw, Presque Isle, Iosco, Cheyboygan (except Mentor), Midland (except Mt. Haley, Jasper, Porter & Ingersoll), Frost, Franklin, Hayes, Hamilton, Hatton, Arthur, Grand, & Sheridan Township in Clare; Lovells in Crawford; Wawatan in Emmett; Roscommon, Backus & Nester in Roscommon; Vernon, Wise, Isabella, Denver Union & Chippewa in Isabella; Dover, Chester & Charlton in Otsego, Wisner & Akron in Tuscola.
The Flint Electrical J.A.T.C.
IBEW, Local 948 – NECA, Flint Division
Richard Mason, Training Director
Kellogg Dipzinski, Membership Development Coordinator
5209 Exchange Drive
Flint, MI 48507
(810) 720-0583
FAX (810) 720-0584
Flint.saginaw.jatc@sbcglobal.net
Territories Covered: Genesee, Lapeer, Shiawassee (part ), Tuscola (Millington only).
Electrician Local 906 - Upper Peninsula J.A.T.C.
Eric Nees, Training Coordinator
304 Avenue A
K.I. Sawyer, MI 49841
(906) 346-2717
FAX (906) 346-2718
Territories Covered: All Upper Peninsula
Toledo Electrical Joint Apprenticeship & Training Committee/Local 8
David R. Wellington, Training Coordinator
803 Lime City Road
Rossford, Ohio 43460
(419) 666-8088
FAX 419-666-0336
www.tejatc.org

Territories Covered: Hillsdale, Lenawee, Monroe.
South Bend & Vicinity Electrical Apprenticeship & Training (Electrician Local 153)
Steve Egyed, Training Coordinator
56365 Peppermint Road
South Bend, IN 46619
(574) 233-1721
FAX (574) 233-1947
Territories Covered: Berrien and Cass.
Apply Now