Trabajadores de Hoja de Metal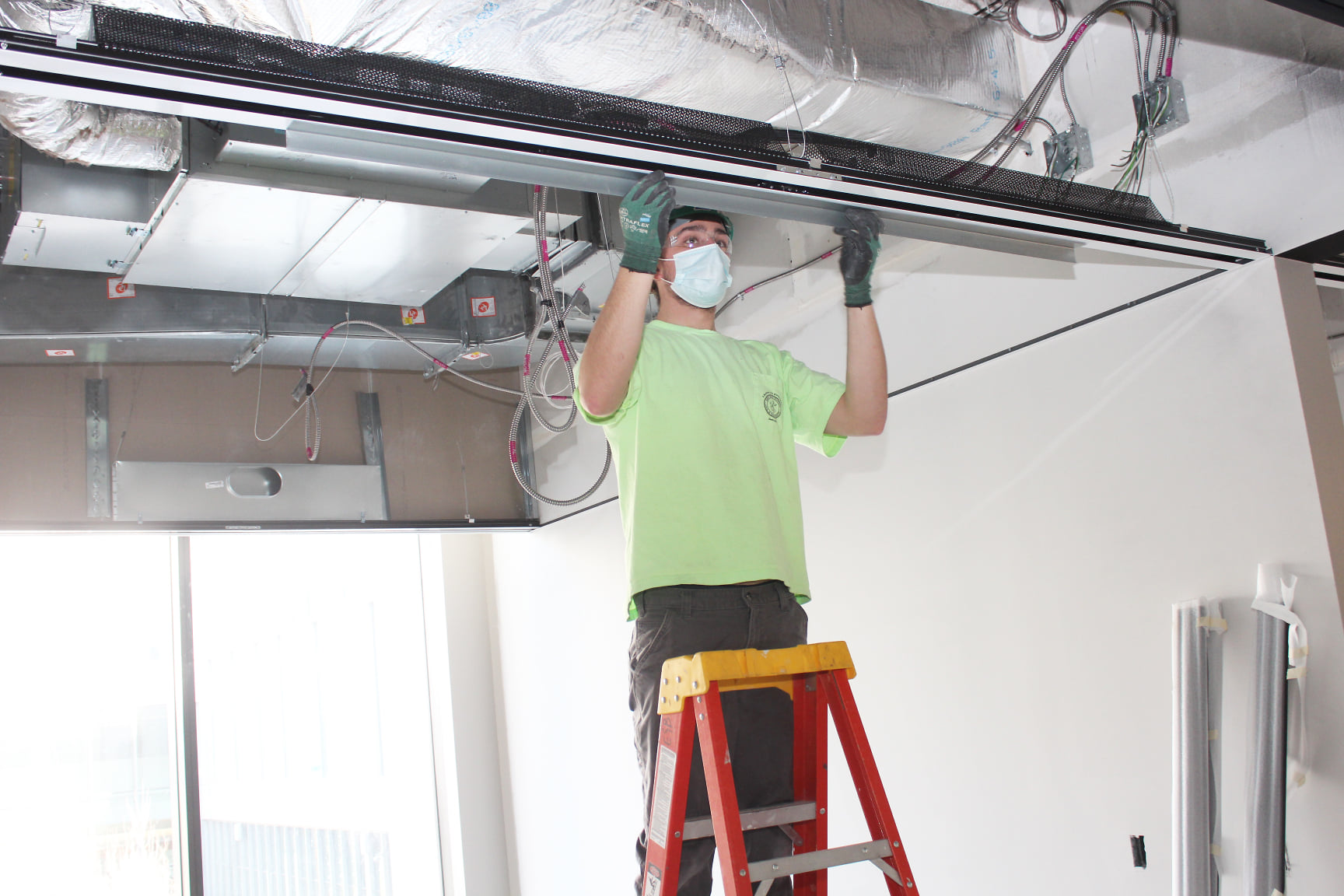 Ámbito del trabajo
Fabrica e instala conductos usados en sistemas de calefacción, ventilación y aire acondicionado (HVAC). Además, fabrica e instala otros productos tales como cubiertas de tejado de metal, productos arquitectónicos de chapa metálica, hornos de pintura, cabinas de pulverización, sistemas de recogida de polvo y equipos de servicio de alimentos. El trabajo se establece en las hojas de metal de planos, formado, fabricado e instalado en el sitio de trabajo.
Condiciones de trabajo
Los trabajadores de chapa son únicos debido al hecho de que hacen una gran cantidad de fabricación de la tienda en comparación con los otros oficios de la construcción. Los productos a ser instalados comienzan a partir de una chapa plana de metal. El trabajador de la chapa desarrolla los patrones de los dibujos de la tienda; Después de fabricar los componentes, se entregan al lugar de trabajo para su instalación.
Locales
Sheet Metal Workers Local Union 80 Training Center
Matt O' Rourke, Training Director
32700 Dequindre
Warren, MI 48092-1006
(586) 979-5190
FAX (586) 979-4282
Territories Covered: Wayne, Oakland, Macomb, Washtenaw, St. Clair and Sanilac.
Sheet Metal Workers Local 292 Joint Apprenticeship Training Center
Kevin Stanbury, Training Coordinator
64 Park Street
Troy, MI 48083
(248) 589-2502
FAX (248) 589-0071
Territories Covered: Wayne, Oakland, Macomb, Washtenaw, St. Clair and Sanilac.
Sheet Metal Workers Local #33
Dan Kline, Training Coordinator
27430 Crossroads Parkway
Rossford, OH 43460-1706
(419) 873-9964
FAX (419) 873-9968
Territories Covered: Lenawee and Monroe Counties.
Apprenticeship Requirements - Sheet Metal Local 7
Length of Program - 4-year apprenticeship with school one day every two weeks. No cost to the apprentice for training. Time spent in school is paid by the apprentice's employer.
Scope of Work - Sheet metal workers design, install and service heating, ventilating and air conditioning system. Work includes installation and servicing complex computerized HVAC system controls.
Sheet Metal Local 7 - Marshall
Kevin Dowdy, Training Coordinator
1612 Brooks Drive
Marshall, MI 49068
(269) 781-7183
FAX (269) 781-7197
Sheet metal Local 7 - Grand Rapids/Muskegon
Darek Scarlavai, Training Coordinator
221 S. Quarterline Road
Muskegon, MI 49442
(231) 777-0252
FAX (231) 777-0549
Michigan Sheet Metal Training & Apprenticeship , Inc.
Flint/Saginaw/Traverse City/Grand Rapids/Upper Peninsula
Matthew Slivinski, Instructor/Acting Coordinator
4070 Dolan Drive
Flint, MI 48504
(810) 785-8111
FAX (810) 785-3369
Sheet Metal Local 7 - Upper Penninsula/Marquette
Ryan Stern, Business Agent
1500 Washington Street
Suite 10
Marquette, MI 49855
(906)225-0585
FAX (906) 225-0635
Aplique Ahora