Fontaneros y Montador de Tuberías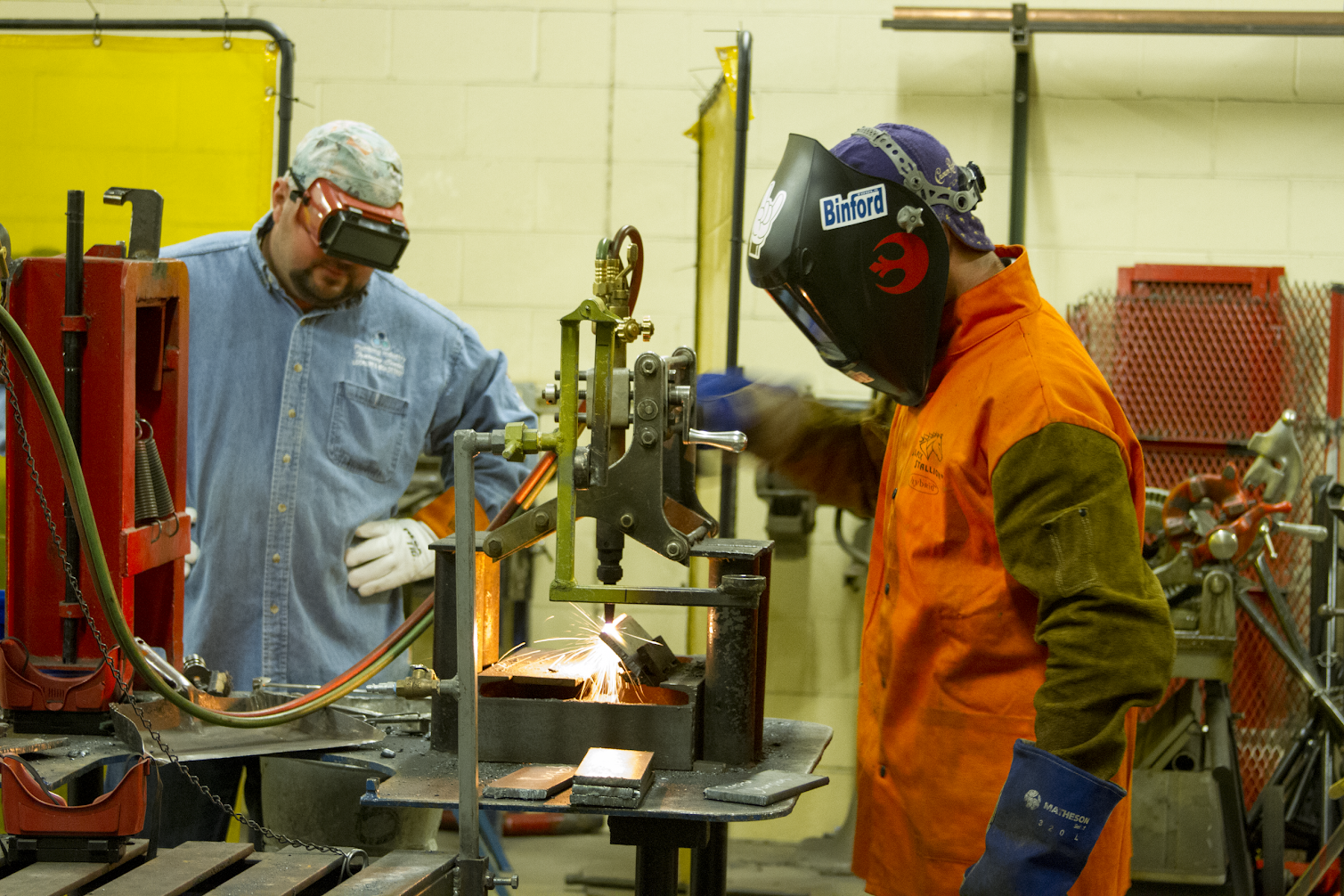 Fontanero - Ámbito del trabajo
Responsable de la instalación de sistemas de línea de agua a cocinas, baños, retretes, etc., en edificios residenciales, comerciales e industriales. También instale gas natural y líneas de aire. Montaje, instalación y reparación de tuberías, accesorios y accesorios de acuerdo con las especificaciones y códigos de plomería. Medir, cortar, roscar, doblar, instalar y probar tuberías y tuberías. Trabajar de acuerdo a los planos, especificaciones y dibujos de trabajo para realizar el trabajo requerido en secuencia de instalaciones.
Condiciones del trabajo
Activo y extenuante. Stand por períodos prolongados, a veces en posiciones apretadas, incómodas. Debe escalar escaleras y también trabajar por debajo del nivel del suelo. El trabajo puede estar sucio, particularmente en sistemas de desecho.
Montador de Tuberías - Ámbito de trabajo
Instalar sistemas de tuberías que transporten agua caliente, vapor, aire u otros líquidos o gases necesarios para la producción industrial u otros usos. Instale sistemas de alta o baja presión, especialmente en edificios industriales y comerciales. Diseñar, fabricar y montar tuberías de dibujos, planos y especificaciones. También trabajan en tuberías para sistemas de calefacción y refrigeración, e instalan sistemas automáticos de rociadores contra incendios en edificios.
Condiciones del trabajo
Pipe Fitters trabajo tanto por dentro como por fuera. En la construcción nueva, Pipe Fitters se mueven en el proyecto después de la estructura básica se erige. El trabajo es activo y extenuante. Hay una gran cantidad de caminar, de pie, de alcanzar, de levantar y de trabajar en cuartos apretados. Están sujetos a los peligros de trabajar con y alrededor de gas a alta presión, vapor y líneas químicas.
Locales
Greater Michigan - UA Local 190 Joint Training Program
Randall Whitaker, Training Coorinator
8040 Jackson Rd.
Ann Arbor, MI 48103
(734) 426-3700
FAX (734) 426-3707
rw@190jtc.com

Kevin Groeb, Business Manager - (734) 424-0962

Completion of this apprenticeship program qualifies for credit with Washtenaw Community College toward certain associate degree programs.

Territories Covered: Washtenaw County, Hamburg & Green Oak in Livingston and Clinton, Macon and Tecumseh in Lenawee County.

Plumbing/PipeFitting/HVAC Service/Pipe Welding Local 85 - U.A. Local 85 Training Center
Timothy D. Danielak, Training Coordinator
P.O. Box 6547
Saginaw, Michigan 48608
(989) 791-1228
FAX (989) 791-3468
tdaneilak@ualocal85.org

Territories Covered: Zone 1: That half of Huron County lying West of M-53, and all of Arenac, Bay, Clare, Gladwin,Gratiot, Isabella, Midland, Saginaw, and Tuscola Counties.

Additionally: INDUSTRIAL WORK in the counties of: Alcona, Alpena, Antrim, Benzie, Charlevoix, Cheboygan, Crawford, Emmet, Grand Traverse, Iosco, Kalkaska, Leelanau, Missaukee, Montmorency,Ogemaw, Oscoda, Ostega, Presque Isle, Roscommon, and Wexford.

Plumbers & Pipe fitters Local 172 South Bend Plumbers & Pipe Fitters Training Centers
Broc Buczolich, Training Coordinator
4172 Ralph Jones Court
South Bend, IN 46628
(574) 273-0500
FAX (574) 273-1560
Broc172@att.net

Rick Whiteman:
Business Agent, Career Opportunity Consultant-
(574) 273-0300

Territories Covered: Cass County, and the city of Niles and vicinity in Berrien County, Michigan.
West Michigan Plumbers, Fitters & Service Trades

West Michigan Plumbers, Fitters & Service Trades Local Union No. 174
1008 O'Malley Dr.
Coopersville, MI 49404
(616) 837-0222 ext.12
FAX (616) 837-1222
www.ua174.org

Mark Mangione, Career Opportunity Consultant-
(616) 893-2223 mmangione@ua174.org

Territories Covered: The counties of Kent, Lake, Manistee, Mason, Mecosta, Montcalm, Muskegon, Newaygo, Oceana, Osceola, Ottawa, Ionia (except the Townships of Portland and Danby), the northern teir of townships in Allegan and Barry; those being the Townships of Laketown, Filmore, Overisel, Salem, Dorr, Leighton, Thornapple, Irving, Carlton and Woodland.

Plumbers & Pipe Fitters Local 333 Lansing, Jackson and Battle Creek
Trent Mauk, Training Coordinator
Training Office: 3101 Allied Drive - Suite # A
Jackson, MI 49201
(517) 784-1106
FAX (517) 784-1147
www.ua333.org
terry@local333.com

Judd Vancoppenolle, Career Opportunity Consultant
(517) 784-1106 Ext.3

Territories Covered: Clinton, Eaton, Ingham, Jackson, Hillsdale, Branch, Calhoun and parts of Berry, Livingston, Portland, and Kalamazoo counties.

Plumbers & Pipe Fitters HVACR Service Technicians Local 357 - Kalamazoo Plumbers & Steamfitters JATC
Bob Gulbranson, Training Coordinator
11847 Shaver Rd.
Schoolcraft , MI 49087
(269) 679-2570
FAX (269) 679-2571
www.ualocal357.com

Territories Covered: Kalamazoo, Van Buren, St.Joseph, Allegan, Berrien and Barry Counties.

Plumbers & Pipe Fitters and Service Trades UA Local 370
Kevin Gaby, Training Coordinator
Harold T. Harrington, Career Opportunity Consultant
5500 W. Pierson Rd
Flushing, MI 48433
(810) 720-5243
FAX (810) 732-3805
www.ualocal370.org
ualocal370@comcast.net

Territories Covered: Genesee, Shiawassee, Lapeer.

U.P Plumbers & Pipe Fitters Training Education Center Local 111
Scott Thrasher, Training Coordinator
2601 North 30th Street
Escanaba, MI 49829
(906) 789-9784
FAX (906) 789-9799

Michael Hares, Career Opportunity Consultant
(906) 789-9784

Territories Covered: Upper Peninsula & Niagara, WI.

UA Plumbers/Piperfitters Local 671 Monroe Plumbers & Pipefitters Joint Apprenticeship Committee
Paul Padot, Training Chairman
Jake Stone, Training Coordinator
309 Detroit Avenue
Monroe, MI 48162
(734) 242-5711
FAX (734) 242-4692
ppadot@sbcglobal.net

Territories Covered: Monroe County

Plumbers UA Local 98 - Plumbing Industry Training Center
Paul Baker, Director of Operations
1911 Ring Dr .
Troy , MI 48083-4229
(248) 585-1435
FAX (248) 585-1437

Dan Nixon, Business Manager - (248) 752-3702

Territories Covered: Wayne, Oakland, Macomb, St.Clair, Huron, & Sanilac Counties.

Pipefitters - Steamfitters, Refrigeration & Air Conditioning Service Local 636 Pipefitting Industry Training Center
Larry Giroux, Training Coordinator
636 Executive Drive
Troy, Michigan 48083
(248) 585-0636
FAX (248) 585-3907
pipefitters636tc.org

Frank Wiechert , Business Manager-
(248) 538-6636

Territories Covered: Wayne, Oakland, Macomb, St.Clair, Huron & Sanilac Counties.
Aplique Ahora