Electricistas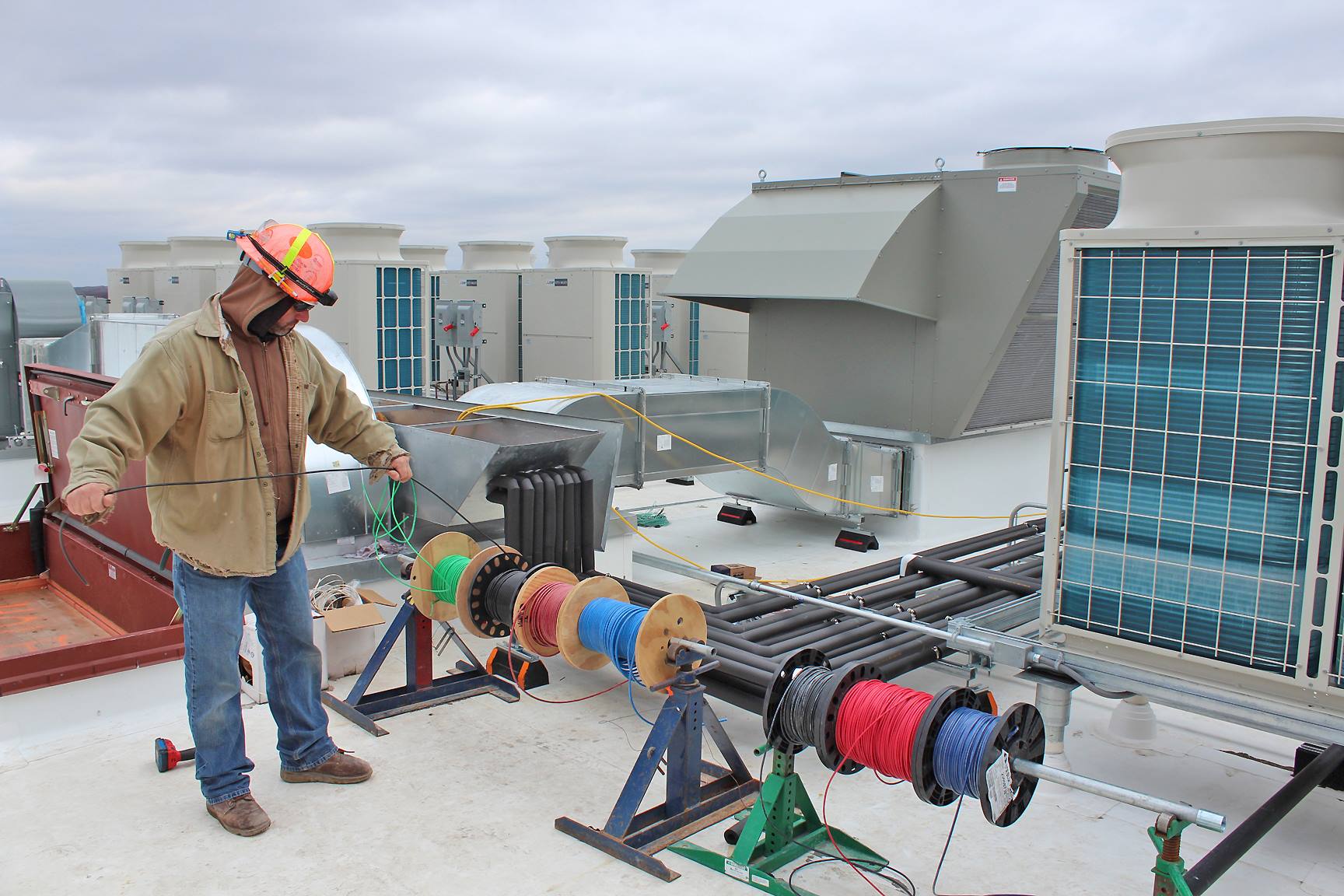 Ámbito del Trabajo
El trabajo de los Trabajadores de la Construcción Eléctrica (Inside Wiremen) se puede dividir en categorías amplias tales como nueva construcción, remodelación, mantenimiento y reparación. Mientras que los trabajos difieren, las habilidades mentales y físicas adquiridas en un programa de entrenamiento correctamente diseñado y administrado preparan al trabajador eléctrico para esta gama entera del trabajo. Durante una carrera como trabajador de construcción eléctrica, una persona probablemente estará involucrada en muchos tipos diferentes de trabajos que presentan muchos desafíos nuevos y diferentes, el o ella trabajara con sus manos, así como con su mente. Gran parte del trabajo involucra la instalación, ensamblaje, pruebas, reparación, diseño y diseño de cableado eléctrico, accesorios y aparatos utilizados para la energía, luz, calefacción, aire acondicionado y muchos tipos de sistemas de control. Muchos trabajos ahora incorporan computadoras. Debido a la naturaleza del trabajo, las habilidades matemáticas y de lectura por encima del promedio son esenciales.
Condiciones del trabajo
El trabajo se realiza tanto en interiores como en exteriores en todas las temperaturas, clima y condiciones ambientales. El oficio, a veces, requiere considerable esfuerzo físico para levantar, transportar materiales, escaleras y herramientas, y escalar escaleras y andamios. Dado que la mayor parte del trabajo se realiza desde escaleras, andamios o elevadores motorizados, el Trabajador de la Construcción Eléctrica debe estar cómodo trabajando en una variedad de alturas. La mayoría de las funciones de trabajo requieren el uso de herramientas manuales y eléctricas.
Locales
Electrical Workers - IBEW Local 58 Detroit Electrical JATC Electrical Industry Training Center
Gary Polulak, Training Director
2277 E. Eleven Mile Road, Suite 1
Warren, MI 48092
(586) 751-6600
FAX (586) 751-6699
detroiteijc.org
Michael Richard, Business Manager - IBEW Local #58-
(313) 963-2130
Territories Covered: Wayne, Oakland, Macomb, Huron, Sanilac, St.Clair and part of Livingston.

Kalamazoo Joint Apprenticeship and Training Committee- Local 131
Morris A. Applebey, Training Director
3641 East Cort Street
Kalamazoo, MI 49001
(269) 388-4434
FAX (480) 247-4341
mapplebey@ibew131.com
www.kalamazoojatc.com
Territories Covered: Kalamazoo, St. Joseph, Van Buren counties.

Electrician Local 252 - Ann Arbor Electrical Apprenticeship Training Center Ann Arbor Electrical J.A.T.C.
John Salyer, Training Coordinator
13400 Luick Drive
Chelsea , MI 48118
(734) 475-1180
FAX (734) 475-1209
www.aaejatc.org
info@ibewneca252.org

Tim Hutchins, Career Opportunity Consultant-
(734) 424-0978
Territories Covered: Washtenaw and Jackson Counties , parts of Livingston & Ingham Counties.

Electrician Local 275 – West Michigan Electrical Apprenticeship Program
Sean Egan, Business Manager
140 N. 64th Street
Coopersville, MI 49404
(616) 837-7149
FAX (616) 837-1785
Dave Kitchen, Career Opportunity Consultant
Territories Covered: Kent, Mecosta, Montcalm, Muskegon, Newaygo, Oceana, Ottawa; Laketon, Fillmore, Overisel, Salem, Door, Leighton in Allegan; Thornapple, & Irving in Barry; Otisco, Orleans, Ronald, North Plains, Keene, Easton, Ionia, Lyons, Boston, Berlin, Campbell & Odessa in Ionia; Coldwater, Gilmore, Sherman, Nottawa, Bloomfield, Deerfield, Rolland & Fremont in Isabella; Sweetwater, Webber, Cherry Valley, Pinora Lake, Yates, Pleasant Plains, & Chase in Lake; Victory, Sherman, Sheridan, Hamlin, Amber, Pere Marquette, Custer, Branch, Summitt, Riverton, Eden & Logan in Mason; Richmond, Hersey, Evart & Orient in Osceola.

Electrician Local 445 - Battle Creek Electrical JATC
Chris MacCreery, Training Coordinator
1375 West Michigan Avenue
Battle Creek, MI 49037
(269) 964-4545
FAX (269) 964-4040
www.bcejatc.com
chris@bcejatc.com
Steve Claywell, Career Opportunity Consultant-
(269) 964-4545
Territories Covered: Branch, Calhoun and some of Barry and Eaton.

Electrician Local 498 J.A.T.C.
Timothy R. Babcook, Training Director
3912 Blair Townhall Road
Traverse City, MI 49684
(231) 943-4193
FAX (231) 943-8000
Territories Covered: Charlevoix, Antrim, Kalkaska, Missaukee, Wexford, Grand Traverse, Leelanau, Benzie, Manistee, Clare, Lake, Mason, Cheboygan, Emmet, Crawford, Osceola, Ostego, Roscommon.

Saginaw Electrical J.A.T.C Local 557
7303 Gratiot Rd.
Saginaw, MI 48609
(989) 781-0516 FAX (989) 781-0563
David Small,Business Manager - (989) 781-0516
*Applications Monday - Friday 8:00 a.m. – 4:00 p.m.
Territories Covered: Gratiot, Tuscolo and Saginaw.

Electrician Local 665 - Lansing Electrical J.A.T.C.
Dale Goerge, Training Coordinator
5708 Corner Stone Drive , M102
PO Box 40010-4102 W
Lansing , MI 48901
(517) 483-9688
FAX (517)483-9696
dale@lejatc.org
www.lejatc.org
Tom Eastwood, Career Opportunity Consultant - (517) 393-5530
Territories Covered: Eaton, Clinton, Gratiot, Ingham, Ionia, Livingston, Shiawassee.

Electrician Local 692 - Bay City Electrical Apprenticeship Program
Steve Pahl, Training Coordinator
1300 W. Thomas
Bay City, MI 48706
(989) 686-4890
FAX (989) 686-5416
stevepahl1995@gmail.com
www.IBEW692.org
Jack Tobias, Career Opportunity Consultant-
(989) 684-4510
Territories Covered: Alcona, Alpena, Arenac, Bay, Gladwin, Montmorency, Oscoda, Ogemaw, Presque Isle, Iosco, Cheyboygan (except Mentor), Midland (except Mt. Haley, Jasper, Porter & Ingersoll), Frost, Franklin, Hayes, Hamilton, Hatton, Arthur, Grand, & Sheridan Township in Clare; Lovells in Crawford; Wawatan in Emmett; Roscommon, Backus & Nester in Roscommon; Vernon, Wise, Isabella, Denver Union & Chippewa in Isabella; Dover, Chester & Charlton in Otsego, Wisner & Akron in Tuscola.

The Flint Electrical J.A.T.C. IBEW, Local 948 – NECA, Flint Division
Richard Mason, Training Director
Jay Freeman, Career Opportunity Consultant
5209 Exchange Drive
Flint , MI 48507
(810) 720-0583
FAX (810) 720-0584
Flint.saginaw.jatc@sbcglobal.net
Territories Covered: Genesee, Lapeer, Shiawassee (part ), Tuscola (Millington only).

Electricians Local 979 - Escanaba Electrical Appenticeship Program
Steve Srock,Business Manager
1219 First Avenue
Escanaba, MI 49829
(906) 786-1773
FAX (906) 786-0277
Territories Covered: All of the Counties of Delta and Schoolcraft and all of the County of Menominee (except the Townships of Menominee, Mellon, & Ingallston).

Electrician Local 906 - Upper Peninsula J.A.T.C.
Derek Nees, Training Coordinator
119 S. Front Street
Marquette, MI 49855
(906) 226-7497
FAX (906) 225-0821
ibewlu1070@gmail.com
Thomas Hogan, Career Opportunity Consultant - (906) 226-7497
Territories Covered: Marquette, Alger, Luce, Chippewa and Mackinac.

Toledo Electrical Joint Apprenticeship & Training Committee/Local 8 Toledo Electrical Joint Apprenticeship and Training Center
David R. Wellington, Training Coordinator
803 Lime City Road
Rossford, Ohio 43460
(419) 666-8088
FAX 419-666-0336
dwellington@tejatc.org
www.tejatc.org
Joseph E. Counsino, Career Opportunity Consultant-
(419)-666-8920
Territories Covered: Hillsdale, Lenawee, Monroe.

South Bend & Vicinity Electrical Apprenticeship & Training (Electrician Local 153)
Steve Egyed, Training Coordinator
56365 Peppermint Road
South Bend, IN 46619
(574) 233-1721
FAX (574) 233-1947
segyed@jatc153.com
www.jatc153.com
Tawny Smith, Career Opportunity Consultant-
(574) 233-1721
Territories Covered: Berrien and Cass.
Aplique Ahora